SneakerHeads On WallStreet. Sneaker Shorts, Options, & Futures. Lets Make More Money.
Currently there are many sneaker aficionados, or "sneakerheads," investing in buying and selling sneakers, primarily limited edition Nikes, on the lucrative, unregulated secondary market.
"For 15 years, Nike has propped up an artificial commodities market, with a Facebook-level hyped IPO every single weekend."
Nike strategically controls its sneaker supply and distribution to increase its value, curating and growing the resale market to its current annual value of $1.2 billion.
"Shoes that sell for $8,000 do so because they're very rare. It's no different than any other collectible market. Only this isn't a market at all. It's a false construct created by Nike…to sell more shoes."
Nike and other shoe manufacturers releases two or three new limited edition sneakers every week, drawing lines of people outside retail outlets and selling out online.
"You know those crazy iPhone lines you see on the news every other year? Nike lines happen 104 times more often."
Josh Luber founder of Campless, a sneaker-market analytics firm, provides collectors with trade data so they can monitor and maintain sneaker portfolios.
"Unlike Apple, who will sell an iPhone to anyone who wants one, Nike doesn't make…money by just selling $200 sneakers. [It sells] millions of shoes to millions of people for $60. And sneakerheads…who drive the…brand cachet…enable Nike to sell millions of $60 sneakers."
Just like WallStreet, a "stock market of things" for collectibles would enable investors to make the same types of secure, sophisticated transactions – such as shorts, options, or futures – that are available on the financial stock market.
---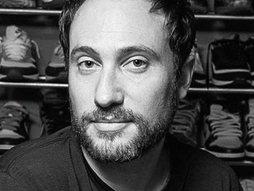 The Sneaker Market and Why It Matters
TED Conferences LLC
2015
Video
TED
Josh Luber
Founder of Campless, a firm that analyzes and issues data on the collectible sneaker resale market.
Josh Luber founded Campless while working as an IBM consultant. A "sneakerhead data" company, Campless tracks the secondary market for sneaker sales, a $6 billion global industry. The company has been featured in The Wall Street Journal, The New York Times, London Financial Times and CNN Money. Josh also founded and operated three startups after a brief stint as a bankruptcy attorney.